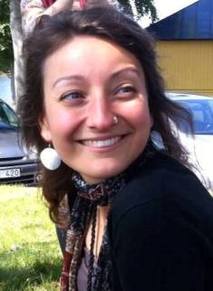 An overview of my services:
I support groups in meaningful conversations and meetings by facilitating, harvesting and visualizing your process. I use participatory methods like World Café, Open Space, Circle, Storytelling, etc. to unleash your collective creativity in your project team, company, or community.

My work is based on authentic personal and collective leadership as well as creative organizational change and development. It combines strategy and emergence in order to use the full potential of your vision, the present moment and the complexity of your environment.

My special gift is to make the essence of your process, content, concepts, conversations and visions visible and to support you in moving forward - which means I draw and illustrate what you speak and what is between the lines. Depending on what is needed in your situation I am a mirrow, a witness, a visual coach, a co-creator bringing ideas and fresh inspiration, or an illustrator for the communication of your ideas.

We can work together analogue and personally or digitally via the web.
I teach my skills in graphic recording workshops and trainings in participatory leadership across Europe. You can contact me in English, German, Spanish, and Italian.

---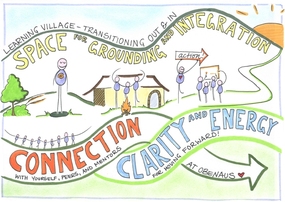 Graphic recording:
What is graphic recording? In short: you speak, present, teach, coach, brainstorm or engage in a conversation and I listen deeply into the essence of what is being said and draw it while you speak. By doing that I capture your main ideas and help you to create clarity, memory and engaging images that you can use, show and share with your team, clients, and networks.

I can do that on different levels: either just recording what you say or listening between the lines and make visible what is in between the lines, in the room, or including the connections and potential I sense.
Visit the gallery to get a sense of how that might look like.

---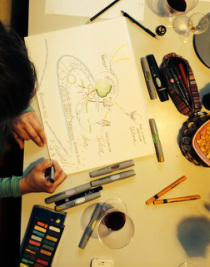 Process and concept support and visualization:
This is strongly related to the graphic recording you can read about above. The difference here it that the visuals I produce for you are made to support your very own design process - for your business, your new product and service offerings, your community development, your learning journey and many other projects. Here we can work out visually together where you are coming from, what your current situation is, where you want to go, and what is needed for that. This means working with very individual processes.

You are welcome to send me a message if you want to have a conversation about yours.

---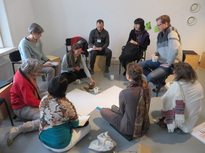 Hosting conversations that matter:
I am a facilitator working in and with the Art of Hosting field and community of practice
. Through process design and participatory methods I can support your strategic process, course, or learning journey.
Find out more about what Art of Hosting is here.



Designing processes and conversations that matter:
A sucessful conversation depends on many factors and starts with the first idea. The facilitation is just one of the aspects. I can support or consult you in the design of the whole journey, potentially from your first idea (and the call you hear to organize it) until the documentation and follow up work. Here my work is e.g. inspired by the Chaordic Stepping Stones and the 8 breaths of process design and harvesting. This work is craftwork, contact me with your individual needs.

---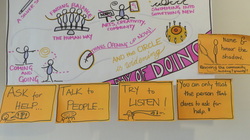 Strategic harvesting of processes and conversations:
This activity deserves an individual spot. Harvesting is a metaphor for picking the fruits of your process or conversation. As a whole process in itself, it includes the design and the doing of documenting your process, processing the information output, making it usable and sharable and distributing it to the stakeholders. The harvesting dances together with the hosting. It can include the graphic recording, but goes far beyond visualization.

---